DC AIDS Ride 4: Ride 5 - W&OD Trail to Sterling
| | | |
| --- | --- | --- |
| Ride 5: W&OD Trail to Sterling | Saturday, March 27 | Distance: 40 miles |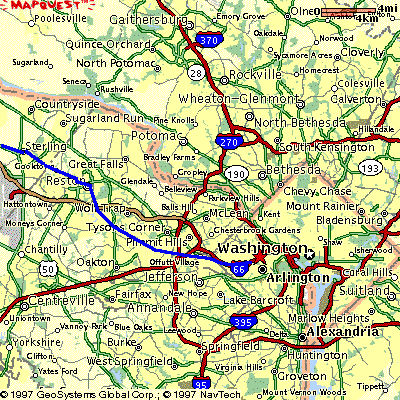 [My--the maps changed scale!]
I was expecting a rainy day and 20 miles. I got neither. I'm not asking for a refund, though. This was a real ride. All 40 miles of it.
We met at 9 AM at the East Falls Church Metro station. Right on I-66, the station is at the intersection of the Custis trail (my nemesis!), the Four Mile Run trail and the W&OD trail. I see EFC as the beginning of the suburbs--it's around here that roads start getting wide, sidewalks start getting rare, and cars start becoming essential.
We took a wrong turn right at the beginning, but quickly regained our bearings. We followed the trail alongside I-66, the first molehills catching me slightly by surprise. Soon we left the Interstate-from-hell behind, crossed over the Belt that holds Washington's pant's together and ventured into the suburban mysteries of Vienna of Metro Fame. I realized while biking through it that I had never actually been in Vienna--it's the last stop on the Orange line, the point beyond which no car-impaired individual may foray...
There is a bridle path along the W&OD trail on which people may ride on horses. The trail itself follows an old railroad track, and as old railroad tracks go it cuts through many backs-of-neighborhoods, forests and meadows. Poking around on the web, I found a site with very nice photographs of the trail. And I won't try to reconstruct a history of the trail here--Tom McCready of Falls Church has already done a darn good job.
We biked under the Dulles Toll Road (Virginia's own Sillicon Alley) towards Disneyland (i.e. Reston). Trish (the other rider helping me hold up the rear), the ride leader (or sweep, as the case may be) and I stopped at a 7-11 in front of Sallie Mae's Miracle Gro version of a Japanese garden. Here I found out that the ride was a 40-miler, 13 miles into it.
Once the mass-produced mess of Main Street USA was left behind us, we continued towards Herndon, the land of cookie cutter houses, and further towards Sterling. Sterling, unlike its suburban neighbors of Herndon and Reston, houses many more minority and lower-income families. I definitely felt a wonderful rush of excitement when I crossed the bridge over Sully road (Rt. 28) and saw the Carmax in Sterling--I let out a bunch of expletives of amazement and pride at the fact that I had biked out to a place that I thought was far to DRIVE! I remember driving out there with Erica a few weeks ago looking for a car for her and bitching internally at how darn far the place was.
Trish and I were the only ones left on the way back. I actually left her behind for a while, stopped at a community center, used the rest room and caught up with her in Reston, in front of Sallie Mae's Miracle Grow Garden. The ride leader, sweep and other riders were probably all home by then. We didn't mind. We kept each other going, saw a skunk, 5 cardinals and let out a hoot of delight upon arriving back at EFC, 5 hours after when I thought I'd be back...