DC AIDS Ride 4: Ride 15: Maryland's Eastern Shore
| | | |
| --- | --- | --- |
| Ride 15: Maryland's Eastern Shore | Saturday, June 12 | Distance: 60 miles |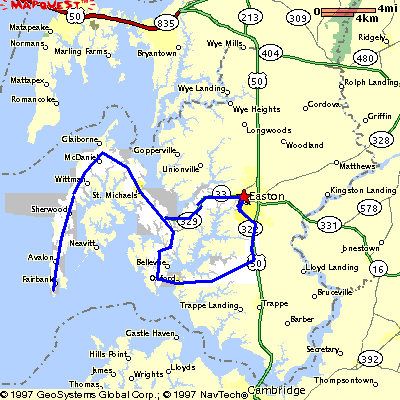 Days like today make me wonder whether or not being on a bicycle for hours on end is a sane idea.
I woke up at around 7 AM this morning. This business of waking up early in the morning on weekends is bound to cause some damage, either psychic or emotional. I lollygagged in bed until around 7:30, knowing that I needed to be somewhere on Route 50 in Maryland by 9:30 for a 10AM rideout.
I left my house at 8:30, somehow convinced that I'd be able to make it to this unknown destination by 9:30. "Eastern shore," I said to myself, "that is probably somewhere around Annapolis."
Someday I'll learn that I don't know everything. And usually, I'm good with the whole East/West thing, but I botched it this time.
By the time I neared Annapolis, saw the sign that said "Bay Bridge - 20 miles" and saw the clock at 9:30, I knew I had made a mistake.
Crossing the bridge was fun, although all the way I thought that once again, I'd be cutting it just in the nick of time. As soon as I crossed the bridge and saw the sign that said "Easton, 35 miles" and my clock that said 9:35, I knew I'd only make it by breaking a few traffic laws.
Wouldn't you know it, I got lost only a few blocks away. By the time I got to Easton it was 10:15 or so. I drove around a bit, lost, then almost tearful and frustrated at my own poor planning and lollygagging, I resigned myself to driving back and doing the Mt. Vernon trail or something similar. I got lost on my way out and saw the name of the road I was supposed to be on. I then figured I'd at least drive past the meeting spot, say I was there and then head back home.
Joy filled my heart (I'm not kidding. I don't often feel joy filling anything, and this was definite joy and definite filling) when I saw about 50 bikers still preparing for a ride out. Leave it to everyone else to be late. I pulled a quick 180 turn (thanks to many Dukes of Hazzard episodes watched when I was a kid) and drove into the shopping mall.
I was quick enough to join the last group of stragglers.
The ride was announced as a no-coast 60-or-83-mile ride thorough scenic towns of Maryland's eastern shore. It lived up to its description.
We started out heading south out of the shopping mall and onto roads lined with summer cottages and country clubs. After about 11 miles we reached a ferry crossing, and waited for about 30 minutes for the boat which would take us across one of the many inlets and watery extensions of Chesapeake bay.
On the other side of the ferry ride, the roads got more narrow, the cars became more scarce, and the ride remained flat. We were not the only group on the road--we shared the trails with a very large group of black riders on their way to the 70-person lunch they had reserved and a group of about 20 Asian and Asian-American riders on a summery jaunt were also out for a flat beachy ride. Ten miles down the road we reached the town of St. Michaels, a quaint hamlet with gourmet shops, fancy restaurants and a Gay ice cream store with a Gay rainbow flag and Gay clientele. Everywhere, they say... This whole area of the country brings back memories of movies seen when I was a kid, full of curly-haired blond kids with chocolate ice cream cones, bicycles with banana seats and baskets full of fresh tomatoes and a mysterious treasure chest found buried in an island near a lighthouse. Enid Blighton's Five would have had a jolly time here solving mysteries and eating cucumber sandwiches.
Instead of cucumber sandwiches, I had an standard-issue hoagie with four other end-of-the-pack stragglers in a parking lot beside a supermarket. I didn't dally much, and as soon as I had finished my meal I jumped back onto the saddle, ready to finish this ride that was already at the lunch stop but was still only 1/3 complete.
Somewhere 7 or 8 miles out of town I stopped to help two women, KC and Andrea, who seemed to be having technical troubles. I taught them how to fix a flat, for which they were very grateful, and I went on my way. The scenery was standard-issue farmland on the shoreline. A couple of geodesic domes atop houses on respective sides of the road allowed for a slight 70s flashback.
Out ride reached its turnaround point at Tilden (?) Island, at the southernmost tip of a prominent peninsula. By then, a slight but determined drizzle hastened my return, and my desire to return was compounded by the knowledge that I was closer to the end of the pack than I wanted to be.
I misread my cue sheet and what I thought would be 10 miles to the next pit stop at St. Michaels became 25 or so. However, back in the village I stopped for ice cream at the Gay ice cream store. I met up with KC and Andrea there, and soon continued the return to Easton.
The last 15 miles or so were tough, if only because by that time my legs were tired and I was ready to finish the trip. At the parking lot from where we started I saw KC and Andrea again and stopped to say hello. This resulted in my first fall because I could not get my feet off my pedals because the straps were too tight. By this time, the 83-mile option was
Today I learned three lessons:
Unclip before stopping.
A ride with hills is tough, but a flat one is torture.
When you think you should just head home and sulk, turn around and give yourself one more chance to succeed.