DC AIDS Ride 4: Ride 13: Nokesville to Warrenton
| | | |
| --- | --- | --- |
| Ride 13: Nokesville to Warrenton | Sunday, May 30 | Distance: 63+4 miles |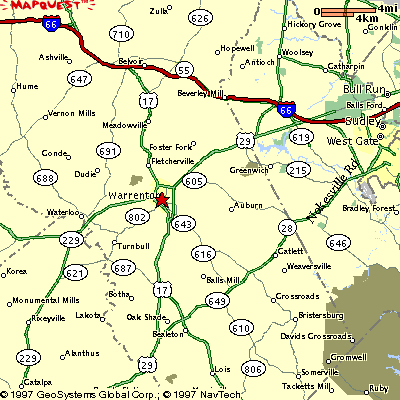 This weekend was supposed to be my first weekend of back-to-back rides. It would have had two journals and blinking text and I-did-its all over the place. But Saturday did not happen, not as I had planned.
I made plans with Dave M and Dennis C to ride on Saturday, but we didn't connect till 10:30 AM on Saturday or so. We agreed to meet at noon, ride the Capital Crescent and then down to Mt. Vernon and call it a 60 miler. However, 3 minutes before I was leaving I get a frantic call from my good friend Brian. He and his partner Jeff were stranded out in suburbia somewhere near lake Needwood in Maryland with a broken crankarm. The piece of metal that attaches the pedal to the gears on Jeff's bike just snapped. As much as I wanted to ride, I needed to heed the call for help, and went and rescued them. However, it meant that I could ride less time. I finally got on my bikeat 2:30, but by the time I got to Potomac Yards I realized I wouldn't be able to make it to Mt. Vernon and back before having to head over to Charles' mom's house for dinner, so my 30-miler became a 16-miler.
Funny how three months ago I considered this kind of distance an accomplishment. I've definitely become a better biker, or at least a stronger one. I've never been good at physical stuff, and it's definitely rewarding to see and feel the changes. My legs feel firm, I feel like I look healthy, the sun is definitely helping me lose that unhealthy greenish tinge caused by too many fluorescent lights. But it also means it takes more and mroe to make me feel like I've accomplished something.
On Sunday, I drove out early to Nokesville, VA, where I would be meeting the rest of the riders for the training ride. As usual, I was running late and in a rush. I met up again with Allyson and Jeff of Poolesville fame, and we all cheerily declared, loudly and to all, that we'd be riding the 63 mile version. Of course, because I was late I forgot to sign the waiver and to pick up a cue sheet. So, of course, instead of looking for a cue sheet I tried to dart behind everyone with the intent of keeping up to not get lost.
Of course, by the second mile when I had been left behind I was close to tears, my knee hurt and I was looking for reasons to quit and stop this and bail out. "My knee hurts," I whined to myself. "How fast do I have to be to keep up with these people?" I chided. It was frustrating--I was riding faster than I've ever ridden and even that was insufficient to keep up even with the slow pack.
Jeff Wynnyk and Brian Thompson caught up with me (they had stayed behing looking for the cue sheets) and thankfully Brian picked one up for me. This would prove to be a salvation later on.
By the time I reached the first pit stop I was third from last (only so because Lynn, the sweep, had stopped to assist two bikers who were fixing a flat). However, I caught up with Allyson and Jeff and a group of other people and managed to stay with them for a while. I got to the lunch stop about ten minutes after they did, and would have left with them if my bladder had not been crying for help.
The trip from Nokesville to Warrenton was very pretty. Pastures, foresty glens, historic landmarks, an airfield, Quantico Marine Corps base and the Blue Ridge Mountains off in the distance made for pleasant scenery. The last two miles before Warrenton were on Rt. 15, a busy highway, but it seemed that drivers had decided to avoid the scorching heat, unlike your stubborn AIDS Ride bikers.
Chicken Salad on wonder bread, popcorn and Gatorade never tasted so good.
The trip back from Warrenton to Nokesville took us through very pretty horse and estate country. It was around here that I lost the last person in the pack in front of me, and had no one behind me. Of course, that was 1/4 of a mile before a turn, and an easy turn to miss at that. I ended up getting confused, riding on for 4 miles and believing the cue sheet was wrong. Fortunately the road I was on eventually hit the proper road and I managed to make it back, but when I saw how far I had strayed from the path I felt very silly.
I made it to Casanova only a few seconds after the five remaining bikers had decided that one of them would turn back to try to find me. By that time, the water that had been left behind by the first group of riders was almost gone, and I had to fill up my hydration pack with 100 ounces of rubber-flavored water from a hose.
A wonderful woman stayed at around my pace for the remaining 15 miles back to Nokesville. She made sure I had cold water to pour over my head. Her husband caught up with us in his car and refilled my water pack with real water. They're both wonderful. I wish I could remember her name. My first name memory is horrible. I need to begin asking for last names again...
I was soggy beyond belief and salty enough to be confused with a pretzel. I would have made good Easter food if I had stayed out in the sun any longer.
I made it back home in time to shower, shave, and prepare for Brian Troyer's goodbye party at Joan's house. I'm sad to hear Brian is returning to Kansas. But I'm sure I'll see him again soon.