DC AIDS Ride 4: Ride 11: Dupont to Poolesville
| | | |
| --- | --- | --- |
| Ride 11: Dupont to Poolesville | Saturday, May 15 | Distance: 70 miles |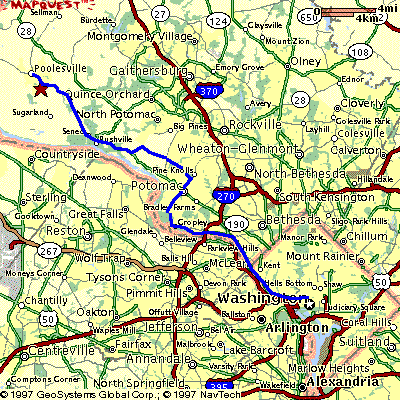 There's so much about today that was a first.
Today was my first ride over 60 miles long.
Today was my first time taking my bike on the Metro.
Today was the first time Charles and I had any kind of argument. It was my fault.
I've spent the last two weekends out of town, one of them biking, the other visiting and biking. Charles asked me well in advance if we could set aside Saturday evening so that I could meet his good friend Justine and her husband Hyuk. When he asked me when I though I'd be back I overestimated my skill and said that the ride was around 60 miles, so it should take me about 6 hours to do... I didn't roll into Dupont Circle until 6:30 or so, two hours after I had said I'd be back home.
I forgot that I've been a faithful defender of the rear on every ride till now.
I forgot that my average speed is 10mph only when the terrain is flat.
I forgot that food must be eaten and water imbibed.
I forgot to call when I was late.
I pretty much botched that one.
I didn't get home till 7:30. I couldn't get in touch with Charles untill 8:30 PM, two minutes after I had said "oh well, he went ahead without me" and had called my friend Carlos back to go eat something. I wanted to get together with Charles and give him a hug and tell him all about my day.