DC AIDS Ride 4: Ride 10: Ithaca, NY
| | | |
| --- | --- | --- |
| Ride 10: Ithaca, NY | Sunday, May 9 | Distance: 21.44 miles |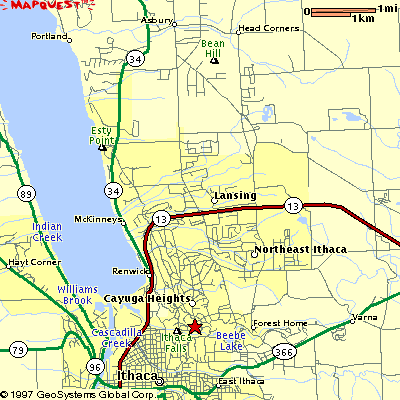 I miss college dearly. Maybe not the 8 AM classes and the prerequisite economics courses... maybe not the backstabbing and miserable weather. But I miss that environment of camaraderie, of intellectual stimulation, of 3 AM hanging-out in the living room making fun of everyone and discussing life. I had a chance to walk down the halls of some of the academic buildings, reading about colloquia discussing the sociocultural implications of particle accelerators in 20th century Europe, seeing poetry magazines, overhearing conversations smacking of intelligence... I had a chance to rejoice in the beauty of Ithaca once again. Oddysseus returns to Itaka after a long absence...
Lenor, Erica, Joe and I drove up for Slope Day--12 hours of drunken revelry on the last day of classes, on a slope overlooking Ithaca and Cayuga Lake. We arrived in Ithaca sometime around 1 AM, and I got to my buddy James Moger's apartment by 1:30 or so.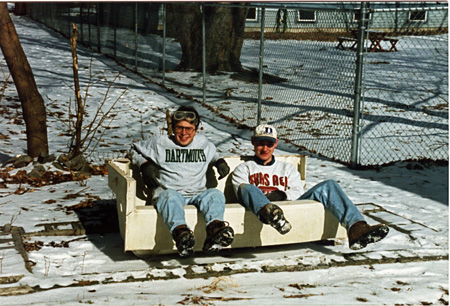 James and I. We pulled out that cast iron tub during demolition volunteering.
On Friday I met up with my good friend Greg, we had lunch in Collegetown and then joined the party on Libe Slope. I had the chance to see many of my friends who are graduating in a few weeks and got to hang out with some of the newly-initiated brothers of Seal and Serpent, the fraternity of which I am a proud member. I was definitely pleased to meet these new folks--a very diverse crowd with very dynamic personalities.
That night we went to see The Mummy, which I did not expect to like but enjoyed thoroughly nonetheless. I think it maintained that good sense of self-parody that made Indiana Jones movies into classics.
On Saturday, I woke early and joined the brothers at the lodge to head out on the annual Seal and Serpent canoe trip. The founders of S&S held a trip to Taughannock Falls park on the western shore of Cayuga Lake when they signed the charter of incorporation for the society in 1905, and lore holds it that the canoe trip became a tradition since. I'm more prone to believing it's a modern-day trapping, but nonetheless it's a good story to keep brothers paddling for 7 miles up the lake. I paired up with my friend Damon, with whom I had not spent quality time in probably a couple of years.
I have started the canoe trip 3 times. The first time it was so windy we couldn't get out of the marina. The second time it was so cold and drizzly that a few of us decided to call it quits at Parker's house-at-the-time, conveniently located on the lake (it was cheap during the winter and spring) rather than brave hypothermia. This was the first time I actually finished it. Damon and I arrived last (what else would you expect with me at the front?) but we managed to avoid the rain by about 30 minutes. We had a barbecue, monkeyed around, and generally had a grand old time. I even had a chance to engage Vi in yet another long-winded and highly philosophical argument with both of us arguing completely untenable positions, just like the good ole days (I think that his southern conservative/Vietnamese perspective would appreciate that reference to the Good Ole days...).
That night I went to the Center for Theater Arts at Cornell and saw my friends Nick and Joe performing in a very professional production of A flea in her ear, a French comedy about adultery and jealousy. Quite uplifting. By mere chance my ticket (which I got free from the box office thanks to some anonymous season ticket holder who just left it for anyone who wanted it) put me in a seat right next to Jeff Goldberg and his girlfriend Erica. Jeff has to be one of my favorite people around--he has this very stylish, cool demeanor to him which is utterly disarming. Despite his good looks and style, however, Cornell women never did appreciate it. However, it seems that his involvement with Circle K allowed him the good fortune of meeting Erica, a thoroughly charming and wonderful woman whose sense of humor and style is only paralleled by her own wits and great looks. Jeff and Erica look very good together. They tango and swing wonderfully.
The next day was my actual ride. I broke down and bought a bike rack and lugged my bike up to Ithaca with lofty plans of biking to somewhere far like Treman state park of Taughannock Falls. However, I had forgotten that the roads leading out of Ithaca are not particularly biker friendly given the limited access routes into town, and remembered that as much as I must learn to deal with traffic for the AIDS ride I also like a leisurely ride.
I started at the Seal and Serpent lodge and biked across Fall Creek over the Thurston Avenue bridge onto Forest Home Drive. I biked next to the herb garden maintained by the Cornell Plantations, then along Forest Home Drive following Fall Creek upstream towards the town/village/road intersection of Varna. Past Varna I was tempted to continue along route 366 towards Cortland, but then I lost courage to battle traffic on Rt 13 and decided to take a left on Freese Road instead. This is a road I never actually traveled before, so I figured a change would not be bad. A steep uphill climb took me to a meadow north of a stretch of woods around Fall Creek that I've hiked a number of times both at day and night--the most memorable one being a late moonlit night when Tom Campbell, Parker and I hiked to the plantations, back through the forest and onto the Golf Course where we lingered on the putting green, basking in the moonlight. In any event, this meadow between those woods and Hanshaw road offers a wonderful vista of the eastern slopes and the western hills. Cameras cannot do it justice.
I continued on Freese, right on Hanshaw and then up towards Sapsucker woods, a place I had always heard about but never been to. I saw expensive houses in the foresty groves with too many garage spaces, a very cool abandoned barn and turned around when I met route 13 again.
I then headed back on Hanshaw towards Ithaca, and meant to take a right on Warren Road to go north towards the Airport. Instead I found myself heading southbound, and I soon realized I'd end up on campus sooner than anticipated. I looped back up on Warren and faced Routhe 13 for the third time. This time I crossed the darn thing, biked up Warren (I've learned to love wide shoulders on country roads ever since). I wizzed past the airport, past the UPS place, and then headed left towards the lake. I then headed north towards Lansing and then towards the lake again. Down the road I saw some beautiful vistas of Cayuga Lake, even being able to trace the route of the Canoe trip from start to finish. The lake has an elbow which doesn't allow this view from Ithaca.
I headed back down towards the lodge on NY 34, rejoiced in the fabulous spectacle of upstate NY's terrain and, after biking through Cayuga Heights, I pedalled up a hill and into the driveway.
I was not too tired to enjoy that night's formal. I borrowed a suit from Patrick Davis and went to dinner at La Table, where I had the pleasure of sharing a table with Alex Smith, his girlfriend (another charming woman dating a sharp S&S man), Jeff and Erica, Dan Duval and his girlfriend. I also had the good fortune of meeting Patrick's girlfriend, a physical therapy student at Ithaca College who once again made me feel very happy that one of my good friends with an often rejected heart was seeing someone wonderful, witty and charming. In fact, a healthy portion of my good friends were involved in some kind of relationship that was making them happy and without much a-doing in the realm of self-deceit.
I returned to Arlington on Monday, after spending a morning on Campus walking, breating upstate NY pollen and longing for college once again.
Graduate school seems so attractive now...