DC AIDS Ride 4: Day 4: Manassas, VA to Washington, DC
| | | |
| --- | --- | --- |
| Day 4: Manassas, VA to Washington, DC | Sunday, June 27 | Distance: 30-something miles |
What a victory!
I completed this mission. I set a goal and actually carried through with it. This is along way from the guy who two years ago made a huge deal about having shoveled the whole sidewalk in front of the Seal and Serpent lodge in Ithaca because it was the first project I started and actually finished in a while. Never mind that I graduated from college with honors after writing a thesis that earned me magna and all that--academics have never really been a difficult thing for me. But after numerous grandiose endeavors I conjured in my mind and that I never started or finished (all those video documentaries and computer animations and workout schedules), this is a win. A very big win.
The day started without much difficulty--30-or-so miles in 6 hours would be a breeze. I took my time having a leisurely breakfast, met up with some of the folks from team AGLA, met up with Rob my tentmate and stretched without fuss.
My knees hurt by that point, a fact to which I had become accustomed. People were passing me left and right--I was also used to that. We started out rolling through on of the suburban Manassas neighborhoods, then through the development of Centreville (I'm reluctant to call it a town) and on down Rt. 29 to the first pit stop in Fairfax. This was probably four miles from where I work. Ice, Motrin and food were had, the crowd was big by the time pit closed at 10:30. I was about 30 minutes ahead of pit closing.
We rolled down from Fairfax towards Oakton, a development?neighborhood?suburban sprawl?township? between Vienna and Fairfax. Here the hills got tricky, but nothing compared to yesterday's leg killers. Traffic was northernVirginian--SUV-heavy, honky, overbearing. Between Oakton and Falls Church we took roads and streets I had never been on which would every now and then cross the W&OD trail at points I recognized. The "oh, so that's where this road leads" factor was high.
The 7-eleven in Falls Church was a welcome sight. The road we rode on towards the second pit stop would, I recognized, become a good way of avoiding the traffic jam on I-66 on weekday afternoons. Yes, it may take the same amount of time, but there's no traffic to contend with.
The second stop was at a church, and I was there until 5 minutes before they closed. I still had two hours to traverse the remaining 7 miles, just a roll on Washington Boulevard through Clarendon and Rosslyn then into DC over the Francis Scott Key Bridge--what I now describe as a breeze. At Quincy park, three or four blocks from home, members from the Arlington Gay and Lesbian Alliance were holding up signs and offering watermelon. We took pictures, said hello, and kept on going.
The exhilaration from being in a pack of people biking over the Key Bridge and onto the Whitehurst Freeway towards Foggy Bottom was subordinate only to my sense of accomplishment. The slow, self-congratulatory ride down 22nd street towards the Lincoln Memorial brought out all sorts of whoops of joy from me and my fellow riders. We rolled into the holding area at the base of the Washington monument, knees hurting and spirits soaring.
For the first time in the whole ride, team AGLA had a meal together, and we all managed to be in the same spot for a picture. It's a damn good picture.Weve got 14 different versions of the picture, they're all damn good.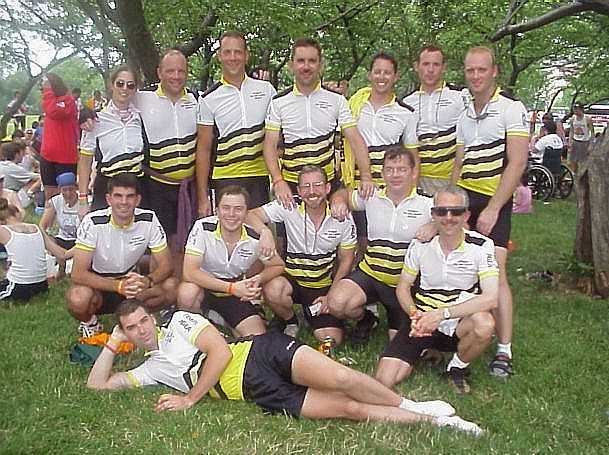 Team AGLA in victory garb. May the bumblebees not be too frightened. But we look damn cool in those jerseys. Notice my smile. It is one of pain--I should not be crouching.
Top row: Karen, Chip, Jeff, Dennis, Mike, Dave B, Matt;
Second row: Ethan Taylor, me, Dave M, Dave H, Andy;
Languid: John Crews.
The final ride-in towards closing ceremonies began at 2:30. After four years of doing this, the city finally gave the AIDS Ride control of one-way traffic on Constitution avenue between the Monument-to-Patriarchy and the Capitol reflecting pool. I suppose Marion Barry's administration was too busy to care about 1500+ bikers trying to make their way up one of DC's main arteries while dodging tour buses and Mercedes with diplomatic plates.
Seeing the large, cheering crowd of people as we turned onto Jefferson Drive, around the National Art Gallery Part Two, finally made me break into tears of joy. I let out loud, proud cheers as my shoulders shook from the sobbing and my tears of success mixed with the sweat induced by 95-degree heat and long-sleve AIDS Ride jerseys. The standard-issue AIDS Ride music of celebration did not condition me negatively despite my predisposition to irritation when techno hits the stage. I was happy.
The ceremonies themselves were good. The standard way they work involves an looping tape of disaggregated sound bites from tear-jerking moments in US history: I call this the Free-at-last-to-walk-on-the-moon tape. Then the national logistics director for the AIDS Ride steps up, says some things about what we've accomplished, and then a hush falls on the crowd as bagpipes bellow their sad call over the loudspeakers. At that point the man-with-the-mike speaks, reading a well-written poem as four people walk up a bike without a rider down a central passageway towards the stage. The bike symbolizes those for whom many of us rode, those who won't ever be able to bike. On its own, this is a very powerful moment. Its power is strengthened by the subsequent entry of all the volunteer crew members who set up the pit stops, gave us food and water, made sure we were sunscreened and motrin-ed and iced and fed and stretched and tented. The cheers of celebration thanking them for all their support last long, much longer than our own cheers of success. This very strong moment is then followed by the man-with-the-mike saying the word Tanqueray a few dozen times in a period of two minutes (thus fulfilling the contractual obligations, I suppose) and then short words from the directors of the beneficiary organizations.
This year the mayor of the city actually showed up and spoke. Marion Barry never really showed any kind of interest. I guess I can give him the benefit of the doubt and assume that he was otherwise occupied--perhaps his tie got caught on his crack pipe or some such similar thing. So good-ole' Tony Williams showed up and said good kind words of encouragement. Now if only he could also find words of criticism against the members of the House subcommittee on the District for meddling in local politics, we'd have a good majoral change--politically forceful like Barry but also competent unlike his predecessor.
Sometime around that speech I walked around and managed to hear my brother yelling out my name. I rushed to him and we held each other in a tearful embrace with as much emotion as that which we didn't show towards each other for the years we lived in the same house. I'm very, very happy that over the last few years we have developed a relationship of brotherhood that bears little resemblance to the "who is that guy?" kind of life we shared when he still lived in Perú. It wasn't so much that we hated each other's guts, but I'd be revising history if I didn't acknowledge that our relationship was pretty turbulent. A lot of it I attribute to the fact that he's five years older than I am. Five years are a lot of difference when one is ten--they seem like a trifle when one is 23. He was the guy who lived down the hall with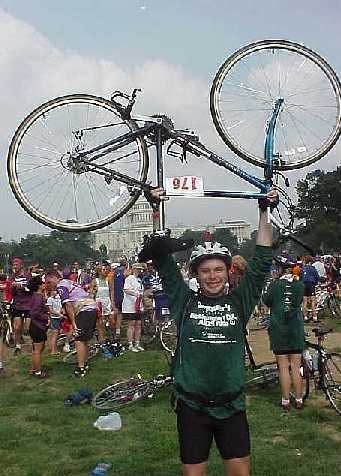 whom I had shared a room off and on for a few years. He was the guy who played hockey and dj-ed and controlled the remote and liked to smother me with pillows. Diego and I are good buddies now. I see that hug not only as congratulatory on his part and celebratory on mine. For some reason, and I can't say it's altogether irrational or unexplainable, I have always seen Diego as a model when it comes to matters of social interaction, perspectives on things that are worth doing, and athletics. To a certain degree I think that it was the culmination, so to speak, of many years of seeking his approval. Not that it wasn't there in many different ways; it's just that this self doubt inflamed my ego in the same way that a sliver of wood that sneaks itself under your skin irritates the flesh with a nagging throb.
Charles was also there, sunburned from a canoeing trip up the Anacostia river two days ago. So were Lenor and Erica and Diego's girlfriend Vicky. Erica and Lenor had drawn up a sign for me, which I still have at home. Charles was making every attempt to be cheerful, but his sunburn and the heat were not interacting well together. It was a good thing to see him there.
The ghost that I conquered today was not only that of athletic inability; I overcame my own perceptions of what others think about what my physical body can do. I won out over what has tortured my self-worth ever since that day as a kid when the PE teacher just expected us to know by instinct how to jump rope double time with our arms crossed, or how we were just expected to know backwards somersaults, or how for some reason I seemed to be the only kid who didn't know how to hit a volleyball. I overcame the I'm-not-a-soccer-player sindrome that taunted me since kindergarten and throughout those Saturday-morning soccer lessons. I won out over the swimming lessons that taught me to swim but also gave me ear infections, bucketsfull of chlorinated water and all the last-place-for-the-kid-who-can't-dive non-awards I ever didn't not get. The afternoon when my mom had me doing tearful sit-ups and push-ups and laps around the yard because I had gotten into some silly fight with my sisters is no longer a painful gash down my side but rather a paper cut on my left pinky. Karate lessons taken and hated no longer taunt me with their rainbow-colored belts, the many cuts on the ears and legs kicked out from under me now seeming like scabs earned while climbing a tree. The hours spent on the bench during field hockey tournaments and baseball games seem risible. The many self-imposed never-finished gym workout sprees are now just gravel on the shoulder of my road, not unclimbable boulders on my way to success.
The last-kid-picked-for-kickball just biked 310 miles.