DC AIDS Ride 4: Day 2: Lawrenceville, VA to Richmond, VA
| | | |
| --- | --- | --- |
| Day 2: Lawrenceville, VA to Richmond, VA | Friday, June 25 | Distance: 85 miles |
Got up at 5 AM. Showered/shivered, got dressed, got ready to roll by 6:30. I picked up my bike from the sag pile and hopped on it after a good breakfast.
It hurt. Man, it hurt. My knees hurt, my legs ached, my speed was 8 mph, nowhere near any speed that would get me to camp. Ten hours of this? That without stopping? Very early in the morning, the sag truck took on an image worthy of a 1960s greek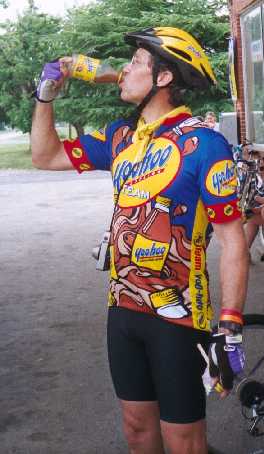 The YooHoo man
mythology film. It was difficult to pick up speed, what with my knees hurting with every pedal stroke and my spirits sinking with every rider who passed by me calling "on your left." After about 20 minutes of resenting this, I realized that I could continue resenting this all day, or I could find a way of enjoying it. After that, I made light of most "on your left"s, telling people things to knock themselves out, go right ahead, leave me behind biting the dust, and so on. To the couple of people who passed me without calling out I would tell them that they had not paid their toll. I think every rider on this ride called out "on your left" to me at some point today.
I reached pit stop 1 in the village of McKenny, VA sometime at 8:30 or 9, maybe even later. I got some ibuprofen and ice for my knees, and took a few minutes to enjoy Pit 1's theme of TWA--Tinky Winky Airlines. It seems like Jerry Falwell may have unwittingly created a real gay icon with his characteristically moronic press release about the purple British fluffy thing. The ibuprofen did wonderful things. A long, steady and low-grade climb towards the town of Dinwiddie, VA on US Route 1 caused no major pain. Outside a gas station north of Dinwiddie I got a classic shot of a rider I dubbed Yohoo man.
The rest of the journey to pit 3 was great--I stopped to get a minor problem with my bike fixed at pit 2 and the technician ended up fixing 4 or 5 different minor problems. Somewhere around mile 43 we crossed the Appomattox river, which I remember being of some kind of significance during the Civil War. I'll research this when I get home. Pit 3 itself was in the township of Ettrick. For the 5 or so miles before lunch I made continuous comments about what was going on to the person behind me, and she kept on commenting back and laughing--this made for an enjoyable trip. It was mile 50 or so, but I felt like I had biked only 30. Yes, my knees ached, my butt was sore, but it did not feel like 50 miles.
Here we heard that there was rain on the way and that we should probably get going if we wanted to avoid it. Energized by lunch, full of ibuprofen and eager to try out my 99 cent rain poncho from Target, I set out with Dennis and Dave, with whom I had lunch--I seem to be catching up with them at every pit stop. It did rain a bit, and I brought out the poncho, which was little more than a glorified trash bag, but it was ultimately unnecessary.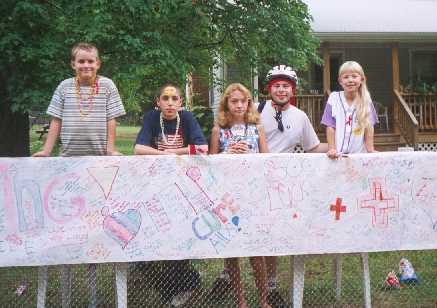 Four kids with great hearts in Chester, VA
In the town of Chester we biked past a house where four schoolkids had put up a huge banner wishing us good luck. The mother of one of them was telling us how this was the biggest thing that had ever happened on their street, and the kids' good wishes and understanding of why we were riding were two more reasons why it felt right to be putting my body through all this. Many of us stopped to sign their banner. I took a picture with them, although a couple of miles later I realized I did not know their names and I should not have been in the picture in the first place--this was about them. But by then I had already cleared a major downhill, I knew I was racing the sag truck, and the inspiration did not hit me until that night, when it was too late to do much about it. So, these four kids who made a strong impact in the lives of a few hundred bike riders shall remain nameless in the book of my adventures much to my chagrin.
Before Pit 4 (Pleasantville) a woman behind me was celebrating every hill. I joined her. It worked--my adrenalin seems to kick in when I bring out the yawping Whitman in me. Pit 4 itself was great. Ice was had.
I left the last pit stop well ahead of the closing of the route, with plenty of riders still behind me. The approach to Richmond would take a while, but I found a pack to stick with.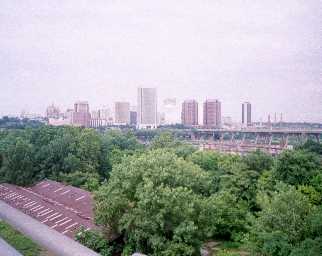 Richmond from the bridge over the James river
This was probably the most heavy traffic we dealt with all ride. The area of Richmond south of the James River, across the river from the tall buildings and colonnades reminded me of the traffic through Anacostia and the easternmost part of the District. The buildings seemed to be in the same state of unwilling disrepair. However, this was also the part of Richmond with the most children and families cheering and greeting us on our way.
We crossed the Robert E. Lee over the James River into downtown Richmond--probably one of the more interesting views on the ride. The multi-lane bridge over the island-spotted river hides, under the thick tree cover, a set of railroad tracks and graffitti-covered columns reminiscent of a future as imagined by the writers of Mad Max or some such post-apocalyptic strip of celluloid.
We wound through downtown Richmond, climbing up streets, biking along parks and down through the collegetown part of the city. After winding a bit, me always a yellow light away from catching up with the group in front of me, we ended up at the Arthur Ashe memorial, which once again brought home why it is that I'm doing this.
So many people I never got a chance to meet. So many people whose lives were so full of wonderful creation and who will no longer continue spawning wonderful books, paintings, music, plays. So many potential friends who are no longer.
It is somewhat strange. I feel melodramatic writing about this. I've had the good fortune of not losing anyone close to me because of AIDS. I came out in high school in the early 90's, and HIV has always been a reality to contend with. So every time I take on this cause, I wonder if I'm just bandwaggoning on to other people's pain and loss. Maybe I should just do this and stop waxing nostalgic about people I never met. I'm not sure...
In any event, the last five miles to camp at a high school in northeastern Richmond were great--a full rush of success, of power and accomplishment.