DC AIDS Ride 4: Day 1: Raleigh, NC to Lawrenceville, VA
| | | |
| --- | --- | --- |
| Day 1: Raleigh, NC to Lawrenceville, VA | Thursday, June 24 | Distance: 105 miles (95 completed) |
Woke up at 4 AM with Prop Me Up Beside the Jukebox if I Die as reveille. This seemed particularly fitting. I caught the shuttle to the fairgrounds at 4:45. I was unusually happy for being up so early--I suppose the excitement gave me enough energy to be bouncy and pouncy.
We got to the fairgrounds at around 5 AM, and I was able to get everything in order before readout, which is an unusual thing for me. Got food, water, maps, stretched, the whole nine yards.
The prospect of 105 miles seemed daunting.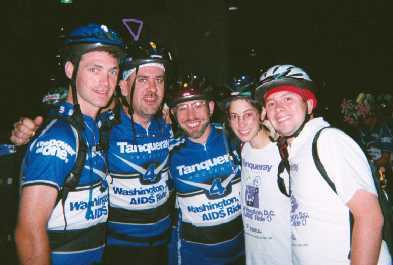 Team SAGLA (Mike, Dennis, Dave, Karen, me) at rideout
The rideout was amazing -- the power and energy one can derive from riding with 1700 other people is the kind that should be harnessed and made into subsidized electricity for economically depressed areas. However, that power must make way for automobiles, so moving 1700 riders took its time. It took us about two hours to get to pit one, which was only 13 miles away from the fairgrounds. Us, in this case, includes Dennis, Dave, Karen, her boyfriend Mike and me. Rob also rode out with us, but he eventually headed out on his own. On the way to pit one there were many well-wishers, plenty of cops helping out at heavy intersections and riders honking their horns, presumably in support. We biked past a nursery school where the kids and teachers had made a big sign wishing us well.
At pit stop 1 I saw Jeff and Chip, who seemed intent on "getting out of here." They always seem to be in a hurry to leave wherever they are. I guess they're pacing themselves, at which they also seem more successful than I am. I got a set of beads, a gift from Pit 1, the Mardi Gras pit. The crew members for the pit stops in general seem to be putting a lot of time and energy into their costumes and pit themes, which makes this even more fun.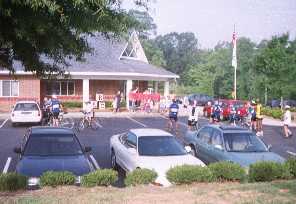 Day care center in Raleigh
Dave got a flat at pit one right before we left, and I, intent on beating the sag truck, decided to continue biking and would catch up with them at the next stop. However, I ended up riding on my own for most of the rest of the day. I'm kind of accustomed to riding alone by now--my speed is not very steady, and ultimately, this ride for me is an intensely personal experience. All this time I've had and will have to myself will be good.
There is a woman riding named Vicky who served today as a source of inspiration. She's probably in her late 40s or early 50s and is riding in memory of someone (I need to ask her who it is). She does her best to pedal up the hills for as far as she can despite her swollen knees and ankles. If she can't ride the whole way up, she gets off the bike, walks up the hill for a bit and tries to finish it. Always, consistently. It's very obvious that this is difficult for her, but she is committed to doing this without ever losing her smile or her positive outlook. If she's committed to doing this, I can't just give in to my own demons and give up. I must go on until I can no longer ride.
I reached the lunch stop 1 hour before pit closure. I had biked through the towns of Royal and Lawrenceville. I ate lunch with Karen and Dave and Mike (Dennis had left them behind and had since headed off on his own) and headed on towards pit 4, in the town of Warrenton, NC. The crew set up this pit stop as Pleasantville, complete with costumes, diner and sock hop. The mist tent was a welcome setup, and they had green Gatorade, which made me very happy. Getting here had not been easy, one major hill getting the better of a big pack of riders. I told the biker in front of me who was struggling as much as I was that he was pulling me up the hill and that he'd better not stop or else I wouldn't be able to make it. I let out an incredible holler of delight and excitement when we got to the top, and yelled something like "I can do anything!" or something equally schmaltzy.
Pit 5 was at Lake Gaston just as it had been two years before when I was a member of the Pit Stop 5 crew. I took a dip in the lake to cool off. Of course, I forgot my bathing suit, so I had to jump in with my riding shorts, but this turned out to not be a problem--the squishiness and wetness went away in all of 5 minutes on the road.