DC AIDS Ride 4: Day 0: Raleigh, North Carolina
| | |
| --- | --- |
| Day 0: Raleigh, North Carolina | Wednesday, June 23 |
Took the Metro, then the Maryland commuter rail to Baltimore-Washington International Airport. The train ride was uneventful, restful. On the shuttle bus from the MARC station to the airport I met Nick, whom I identified as a rider because of the telltale Camelback and helmet. Another rider by name of Pete joined us on the shuttle. I found out that Nick was originally from Chicago, and would be doing the ride with his girlfriend. He's a second-timer, having done the Twin Cities AIDS Ride last year.
Pete offered to help us dodge the line because he had first-class tickets (for a 1-hour flight on a miniature plane), but my two pieces of luggage were packed to be carried by a person, so Nick and I decided to head on. Nick got stopped at the metal detectors--the CO2 cartridges he was carrying could not fly in the cabin.
At the waiting room I landed in a group of riders, a collection of riders with whom I chit-chatted. I was a bit taken aback by their immediate comfort with each other, calling each other tramp and whore despite having met each other then and there (I suppose I should be used to this when in a group of gay men). They'll probably reappear throughout this trip.
The plane ride was uneventful. I got a beautiful view of the Eastern Shore that made me wish that my camera weren't in the cargo bay. I could trace the ride I did two weeks ago from start to finish.
The airport was overrun with AIDS Ride people hoping to make it to the NC State fairgrounds. I joined up with a trio of women with whom I split a 12-dollar fare.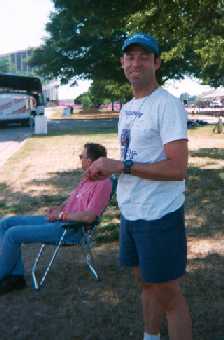 Scott and Frank (rear) at fairgrounds
Day 0 itself was fairly uneventful. Got registered, saw the safety video, refused to fill out a "rider survey" that was nothing more than a disguised marketing information collection (this upset me, and I just wrote down "I am not a target market segment" all over the form and turned it in, and went to my hotel. I met up with one of the fellows from the airport, Scott, who turned out to be very pleasant and friendly.
After I got to the hotel, I caught up with the rest of team AGLA to go to the planned dinner. It turned out I was one of the last ones in (I wonder if this is going to be a theme?) and, after the 20+ minutes it took me to check in, we left for dinner. In the checkout line I was spotted by Zoren from AMS, with whom I had talked briefly sometime in January.
Ruby Tuesday's would not take a group of 18 people, which turned out to be fortuitous. We went to the cafeteria at Belk's department store, where we got a wonderful, wholesome meal with all sorts of wonderful sides like collard greens, sweet peas, scalloped and mashed potatoes, and trout almondine. The ladies behind the counter were incredibly nice, and it seemed like we were not the first riders to come through, because they gave us extra-large helpings and wished us luck many times. Well, all of them except the tray lady, who eyed us with suspicion all the time we were in line. Belk's reminded me of the old cafeteria at the Sears store in Lima, near the expressway leading from downtown to the beach, everything including the orange formica, the tall ceilings with recessed fluorescent lights, the yellow tiles and hanging pool table lights over the booths.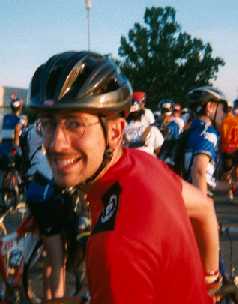 Rob, the lone rider
I sat with Dennis, Dave, Karen, Michael, Andy and a fellow named Rob who was riding on his own. We had a fantastic time.
I went to bed early, washed my teeth to Donny and Marie's talkshow (somehow I really like their cornball humor) and fell asleep to Emeril cooking some fishy mouse thing.