pumpkins
Yes, she's creepy and she's spooky and altogether kooky and indignant about the victims (particularly when the victims aren't indignant)... so Nancy Grace won this year's prize as creepy character of the odd-numbered year, therefore winning her a spot on a Jack O'Lantern.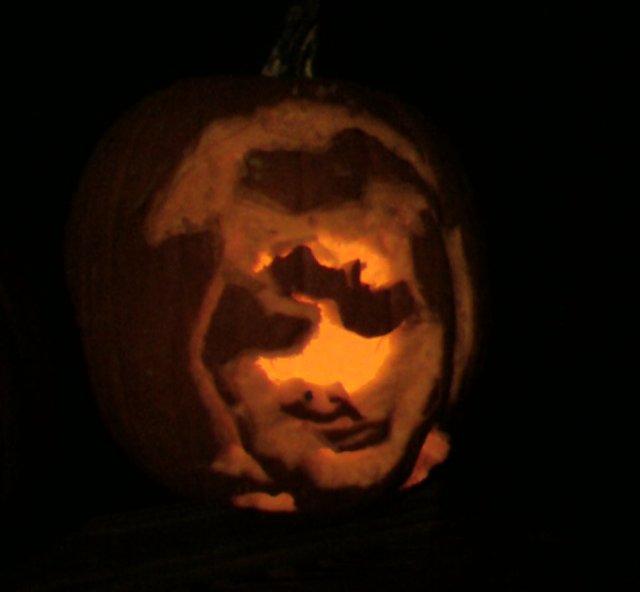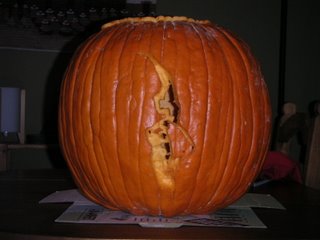 The last few years my themes for Jack-o-lanterns have involved scary political figures. And I do have another pumpkin to carve George Allen in all his hideousness to scare away little kids. But sometimes, you can scare away evil with beautiful things.
Jack O'Lanterns are supposed to scare away evil spirits. I don't think there's anyone out there for spooking away the spooks more frightening than the creep-in-waiting, Dick Cheney.
To those of you scared of what the next four years may bring, I bring you this so that you remember.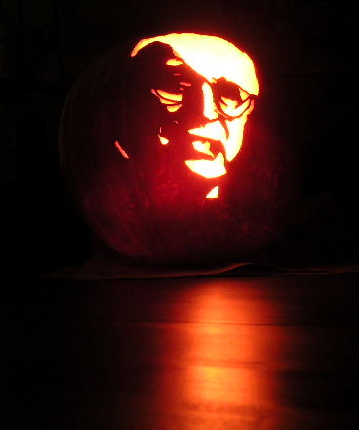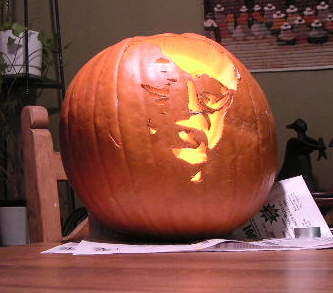 This year's pumpkin is dedicated to one of the scariest men currently in our country's government, John Ashcroft. I'm sure that he's successfully scared the kids away from wanting to do anything that involves interacting with anyone not vetted by the christian/conservative/warhawkish right.


In 1995, it was El Che...
In 1998, it was Garth Brooks...
This year, the pumpkin carving got...
Personal.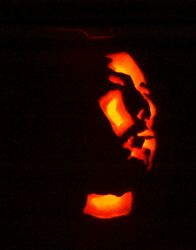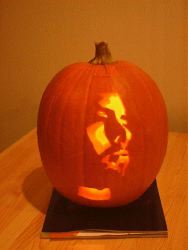 (or, rather, I got carried away while at home during a sick day.)
I think it looks pretty cool, if mildly narcissistic. I guess the fact that it's on a pumpkin (it is an actual pumpkin!) compensates for the ego trip. Judge for yourselves... Anyone know how to preserve a gourd without having to put it on top of a bell tower?