Taiwan: Week One! (We can have lots of fun!)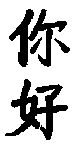 I began my journey this morning at 8am , boarding the flight headed towards San Francisco, then to Taipei. Nothing particularly eventful happened yet. I did have the pleasure of having my seatmate almost spill some of his Starbucks triple-shot venti skim latte on me, which was ironic given my very deliberate care to not spill the motherf---ing drink as I took my seat.
Every 19 or 20 minutes we get a very dramatic waft of odor through the cabin. I believe the guy sitting in front of me either has a horrible case of flatulence or he's already filled up his adult diaper. I hope this isn't a signal for a very, very long set if flights.
I'll be in Taipei sometime tomorrow night.

(February 19, 2001)

My arrival in Taipei happened without incident. Had a cute seat mate for the flight to Taipei--that always helps. The hotel had reserved a car to pick me up at the airport, and it drove me straight to what would be my lodging for two days, the Asiaworld Plaza hotel on Tunhua Road, in the center of Taipei's ritzier shopping district.
The AsiaWorld turned out to be more Asia than World--it seems that the company's travel agent booked me at what is primarily a hotel for Japanese tour groups and visitors from the mainland and other parts of Taiwan. I believe I am one of two Western people at this hotel. Breakfasts are an amusing experience in dodging Nomura-san and Sasaki-san, who are racing each other to the coffee buffet. Alas, I never seem to be quite as nimble as the grandmothers reaching for gyoza or congee.
I spent most of yesterday walking around town with Geri, with whom Dylan, Erica and I did some hanging in Hong Kong last summer. She was kind enough to take the time to show me around and proceeded to show me how to take the bus, get on the subway, and read some basic signs. It set me up to be much better prepared for Taipei. Earlier that morning I had headed out on my own to see what I could see. I bought a Dick Lee album and a highly inexpensive Caetano Veloso recording. Geri would, later that day, show me that paying $10 for a CD in Taiwan is a crime, as just about anything can be purchased for mere pennies. The electronics stores are packed with all sorts of goodies, the kind that have historically made me wax slightly poetic. Our long walk, where Jeri explained much about the purchasing of dirt cheap books, pig blood cake, and pearl milk tea, also set me up to be prepared for what would lay in store in the realm of food.

(February 20, 2001)

Just got an attempted lesson in geography from a travel agent in Milwaukee who blamed me for not being specific when asking for a reservation for the Hyatt in Taipei. It seems that I didn't tell her that Taiwan is not a city in China. I guess there's another example of how the US educational system failed all of us; her ignorance (and feeble attempt at phone service rep pseudo-patronizing attitude) just cost someone NT3000 for the ridiculously long call.

(February 23, 2001)

The course has not been proceeding as smoothly as I would have hoped, but I think I've managed to salvage a lot of it. We'll need to do some fairly extensive overhauling of the content to make sure that potential areas of confusion are minimized. But then again, why am I writing about work on my own website?
Could it be because it's become very apparent that in Taiwan there seems to be no line between personal living and business? I know that most of the people with whom I'm interacting in the class have wives, boyfriend or children. However, they have been extremely deferential to the foreign visitor, spending an inordinate amount of time with me, well into the late hours of the evening. The attention is highly flattering, although certainly making me wonder whether I actually deserve all of it. Monday night, the COO of ecommerce for this company took me out to dinner, where he treated me top that evening's delicacy, simmered frog.
Tuesday night, the director of software development training showed me the area around the hotel I moved to (left the Asiaworld, moved to the Hyatt. If the Asiaworld was decidedly asian, the Hyatt is unabashedly western). Had Shabu Shabu on my own at a japanese department store--that was fun. The next evening I was taken on an outing to Shihlin night market, which is the oldest night market in Taipei. Take a huge wet marketplace, replace every stall with a food vendor, fill it up with people looking to eat, and you'll have an image of what this place looks like. We sat and ate oyster omelette from one of the vendors (my host ordered a squid soup as well for us), and as we walked, the odor of a pig farm started overwhelming my senses. Eventually, I gathered that this was the smell of Stinky Tofu, apparently a very popular form of fried bean curd. I don't think I'd be able to get over the smell for long enough to try it--even though I consider myself a brave eater.
Thursday night, when I had hoped to settle into my hotel room for some time and then head out on my own to explore Taipei at night, I got a call from the sales people of the company, who wanted to take me out for drinks. I met up with them, and for about four hours I managed to communicate in pidgin English and my own butcher-friendly version of Mandarin. Again, I'm learning that I HATE not speaking the language--I feel that I'm just not spending enough time studying it. Tonight, they plan on taking me out for dinner and drinks... I'm trying to figure out how to get out of it.
In general, this trip has not been devoid of its own culinary delicacies:
| Day | Exotic Food items |
| --- | --- |
| Sunday | Pig Blood Cake |
| Monday | Frog legs in sesame oil sauce |
| Tuesday | Taiwanese shabu shabu (ordered on my own--that counts as exotic) |
| Wednesday-Lunch | Szichuanese food: duck blood pudding, beef aorta, sea cucumber, tripe, all simmered in a hot spicy broth that could burn a hole through lead walls, accompanied by some juice which was hardly helpful--Dave P., who would later join me, described it as "reminiscent of Jake's Barbeque Sauce" when he tried it. I compared it to the taste of campfire you get in your mouth after a night of camping. |
| Wednesday-Dinner | Taiwanese oyster omelette and squid soup, eaten at a marketplace. Grilled eel. Avoided, at all costs, the Stinky Tofu and assorted duck parts. Host commented "You pass on everything!". How unfair! |
| Thursday | The exotic gift of General Tso's Chicken, ordered by the training director because the waitress at the bar suggested that the 'Merican visitors tend to like it. He, of course, mentioned that he had never had such a dish, and I mentioned that well, 'Mericans call that Chinese food. He had a puzzled look on his face, a certain sense of disbelief. |
It seems that Taiwanese food (traditional Taiwanese food, that is) tends to fall into three categories: the Tentacled, the Once-in-a-Shell, and the intensely aromatic.

(February 23, 2001, Later)

Dinner with the sales people, The Night After: We headed out to a seafood restaurant where everything one was to eat was still wiggling its tail, snapping its claws or swimming merrily. My host asked me what I wanted, and I pointed to assorted varieties of fish, squid, crab and vegetables. Every time I pointed at something to ask my host what it was, the fishmonger who was taking our order would get very excited and say "Barbecue?". One particularly interesting item was squid mouth--the amount of culinary specialization that has to go into deciding that the mouths of squid are, on their own, something special to eat is astounding. Taiwan Beer was consumed in copious quantities, and my appetite was sated by all those little creatures that died for my pleasure.
Labels: Taiwan