Brazil: A Bossa Nostra
March 26: Please Don't Go Girl, 9:30 Pm, McDonalds on JK and Brigadeiro Faria Lima. Big-ass thunderstorm. I still think Brazilians are beautiful.
---
March 31 (Rua Vinicius de Moraes com Rua Prudente de Morais, Rio de Janeiro): I can see now why all the movies ever made about Rio de Janeiro involve people falling in love. Well, sometimes they also involve people who are eaten alive by a hoarde of street kids. But mostly the love thing.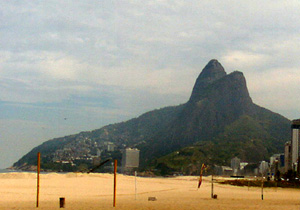 Ipanema and Leblon--girl's in the background
It all boiled down to choosing between the less-than-appealing prospect of another lonely weekend in gray São Paulo or a journey elsewhere. Rio won. I figured, a weekend in The Marvelous City was well worth $200 in airfare and hotel.
I walked a lot, along the beaches of Ipanema and Leblon. I've confirmed that even the ugly Brazilians are beautiful, even when half naked (maybe it's the dramatic sight of the actual Garota do Ipanema). The women, well' I'm told they're sexy (I would go for "statuesque", but that's just me). The men, well, let's just say that I'm remembering all those few thousand images from my childhood that made it very clear to me that I like 'em men.
In the absence of better advice, today I've been a tourist-I have taken postcards of views that others have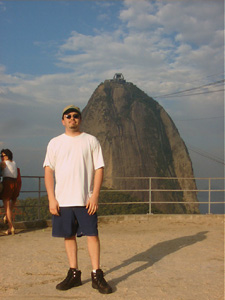 Pão de açucar and a sweet lump of sugar
photographed more successfully, I have asked strangers (in two languages) to take pictures of me, I have stood in line to buy postcards behind chubby sunburned Brits, and I ate (am eating) dinner at a place called The Girl from Ipanema. To my credit, there are more locals here than tourists, but that could just be the Name Is In English effect; Moraes DID write the song while sitting here, though. I did, through this homily to Saint Baedeker, get a chance to see, from above, what has to be one of the most beautiful places on earth.