journeys
March 26: Please Don't Go Girl, 9:30 Pm, McDonalds on JK and Brigadeiro Faria Lima. Big-ass thunderstorm. I still think Brazilians are beautiful.
---
March 31 (Rua Vinicius de Moraes com Rua Prudente de Morais, Rio de Janeiro): I can see now why all the movies ever made about Rio de Janeiro involve people falling in love. Well, sometimes they also involve people who are eaten alive by a hoarde of street kids. But mostly the love thing.
March 18: Just landed in São Paulo after about 12 hours of travelling. The lines to get through immigration are a good reminder of the impact that underplanning 30 years ago can have on today's world.
We were informed early this week that February 28 is a national holiday. "It's a government mistake," they told us. "They forgot to not make it a holiday any more". Some fifty years ago, a protest that took place on the last day of February resulted in police violence, which escalated into a widespread national massacre of dissenters. Certainly not the kind of event one wants to remember by partying the night before and having a backyard barbecue. But what was done was done, so Dave and I ended up having an unplanned holiday.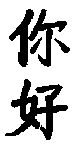 I began my journey this morning at 8am , boarding the flight headed towards San Francisco, then to Taipei. Nothing particularly eventful happened yet. I did have the pleasure of having my seatmate almost spill some of his Starbucks triple-shot venti skim latte on me, which was ironic given my very deliberate care to not spill the motherf---ing drink as I took my seat.
What an intense amount of walking. I saw a bike I thought I'd want to buy, but decided it was not worth the hassle. I saw signs that confirm to me that Taiwan is a nation full of inventive people.