jfrincon's blog
You know that online marketing firms are anonymously targeting ads at you based on what they think they know about you from your online habits and how those fit into narrow profiles.
If you want to find out what some of these companies think they know about you (and be amused or surprised by the results), try the following. This works for online ads with the "AdChoices" logo on the top right (

):
Dear Mr. Zimmerman,
I hope this letter finds you well and that the new year is heading off to a good new start.
The major life-changing projects over the next seven/eight months, the renovation of RC's townhouse. is still in planning stage. We're almost there to the first bit of demolition, though. The next step is to get our design in line with the reality costs -- there is an extreme difference between our budget and what at least one of the contractors bidding on the work says it is going to cost.
In the meantime, I'll focus on setting up a home media server. LinuxMCE all the way. Can't wait to try it.
In 1995, it was El Che...
In 1998, it was Garth Brooks...
This year, the pumpkin carving got...
Personal.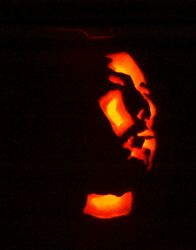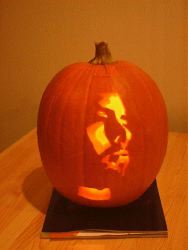 (or, rather, I got carried away while at home during a sick day.)
I think it looks pretty cool, if mildly narcissistic. I guess the fact that it's on a pumpkin (it is an actual pumpkin!) compensates for the ego trip. Judge for yourselves... Anyone know how to preserve a gourd without having to put it on top of a bell tower?